While I hadn't met Ms. Wumi Jubril before, I had heard a lot about the trailblazing CEO of one of Lagos' most luxurious residences. As the melodious sound of her voice echoed through the phone audibly and warmly as we spoke, I knew in that split second that she was an incredibly wonderful and interesting person to interview.
Possibly one of Lagos' most beautiful and luxurious apartment, the Seattle Residences and Spa sits on a large expanse of land in the highbrow area of Victoria Island and is managed by the doting Wumi Jubril. The trajectory of her career removes all doubts about why she holds the current position. She has extensive experience at all levels of the hospitality industry, holds a Master's in International Business Management, and has a loving and jovial disposition that her kind of job requires.
Wumi acquired over 10 years of hospitality experience within Starwood Hotels and Resorts, one of the world's leading hotel brands. Her experience spans Sales, Marketing, Business Development, Partnerships, Business Strategy.
Her academic profile includes graduating with an MSc in International Business from the International Business School, Budapest, Hungary. While with Starwood hotels, she was appointed Head of Business Development, Outbound Sales, West Africa. For this, she had to be connected with all sales teams of the 5 Starwood Properties in Nigeria, the Gambia, and other Hotels within West Africa whilst also representing 9 of the strongest Hospitality brands in Africa.
In her current role as CEO of the Seattle Residences and Spa, she manages a strong team of Hospitality professionals who help to curate some of the most memorable wellness escapes in Nigeria. While with the property, she alongside her team established the company, SRS Collection a Hospitality Management Company which now has 3 properties within their network
It is not every day that we find women leading businesses in Nigeria not less in the hospitality industry. What worked for you?
First of all, thank you for this wonderful privilege to be considered worthy of this interview. Right from a young age, I had always enjoyed the art of just pampering individuals and extending to others royal treats. At a point, I thought it meant I would enjoy the medical line majorly due to my family background where everyone is a medical practitioner. It was after my Bachelor's degree that I knew for certain that it would have to be Hospitality. I have always believed that this industry is sacrificial and there is an honest joy that comes with that. It is just so! If you are not willing to invest a part of yourself to genuinely care for people, you would struggle. These are the basic needs of our clients.
The hospitality industry has become an 'all-comers affair', Hotels and apartments are all over the place. What sets the Seattle Residences apart?
Seattle Residences and Spa is premium. Not only in the sort of accommodation we provide. But also, in the lifestyle experiences which we take the time to curate for our clients. In addition to providing our clientele with world-class accommodation, we have an exquisite wellness spa that compares with no other in the country. We are intentionally selective in the partners we 'get into bed with'. Also, one of the qualities we are known for is how hospitable our staff are. Every SRS employee is a professional customer representative as it is deliberate by our excellent HR team, that has not only selected and hired the very best hands available in the industry but also ensures that this bunch of experts possess the expertise and fit to deliver service excellence.
As a result, I must say the willingness of the staff to make the guests feel right at home is just something I haven't seen anywhere else, and no, this isn't me blowing our trumpet (sort of – laughs). It's not a home away from home situation, it is a HOME.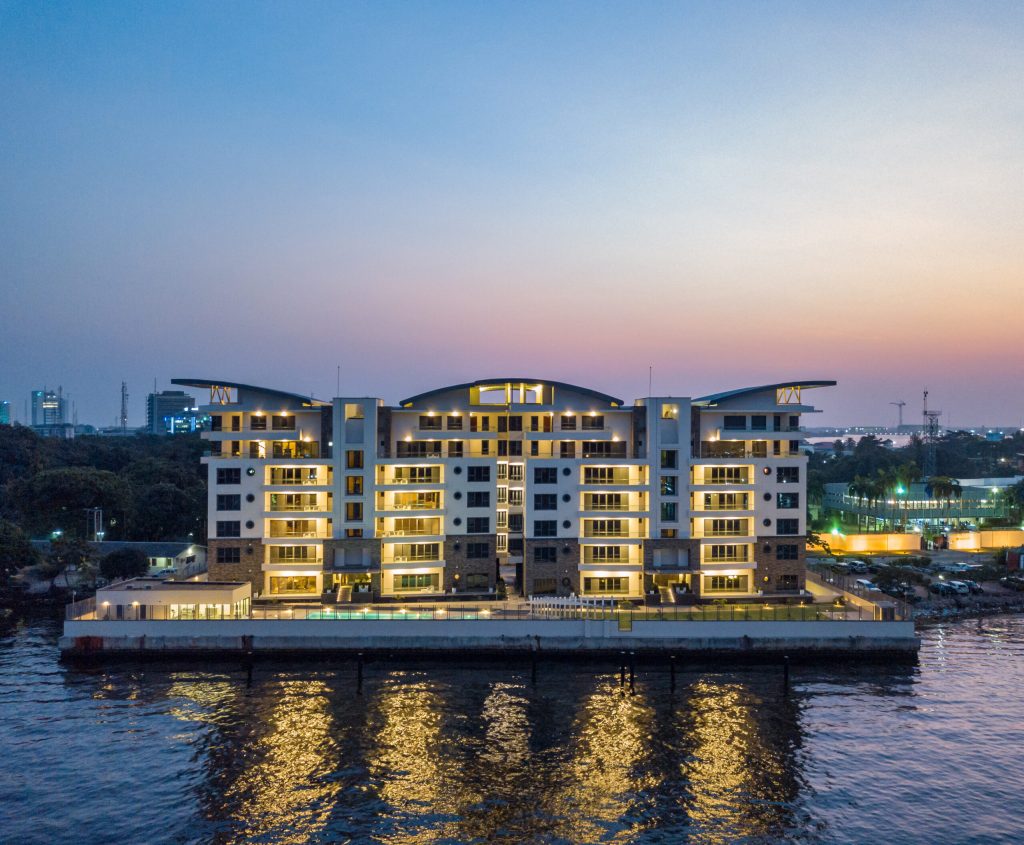 Do you think there is a need to have an independent agency that grades hotels and apartments in Lagos?
Honestly, I think it is due at this stage. The Hospitality industry has grown tremendously in the last decade and a lot of changes were witnessed in the hub. I remember we did not have as many Hospitality groups in the country back then but today, quite a number of them have sprung and begun to bring in their sister brands. In addition, new indigenous Hospitality groups are being established. So yes, I do believe we have enough hotels for such an agency to be established in Nigeria. If they can guarantee they would stay independent and transparent then by all means, yes! Independence and credibility will have to be their watchword so that people do not think they are biased in any way.
In your opinion, what makes for an excellent luxury property?
Location is important when searching for a luxury property. The location has to be one that is buffered from the hustle and bustle of the city is important. You want to have a serene environment with stunning views and greenery. It must have plush bedrooms with a balcony and the best lighting, sound and security systems are essential. Since your apartment is where you rest and rejuvenate, it should have all the amenities that emphasize comfort.
It must have a spacious kitchen with ample storage to accommodate all kitchen appliances.
A Fine Dining restaurant for a la carte meals where intercontinental dishes are served. In addition, it must have a modern wellness Centre for massages and fitness programs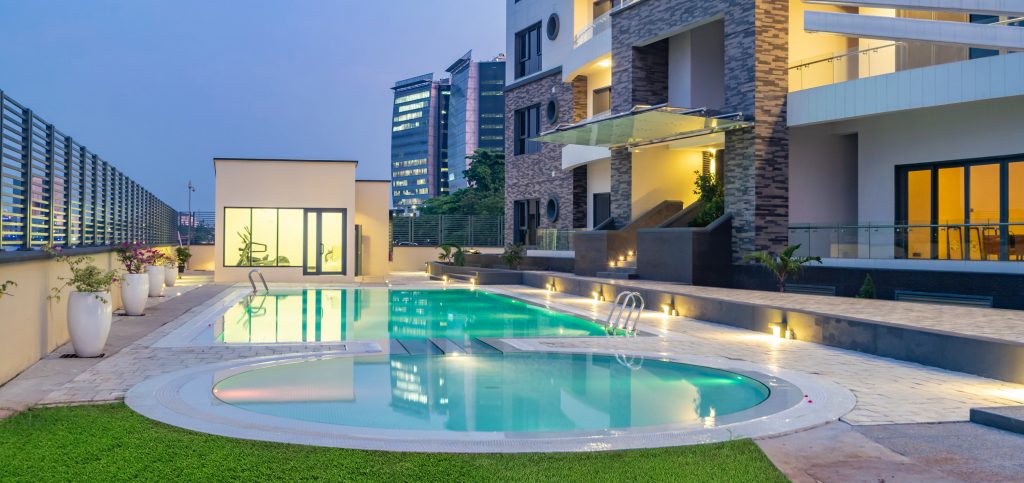 In light of cases of building collapse in Lagos state, how would you describe the infrastructural strength of the Seattle apartments and how do you ensure adequate maintenance?
That was such an unfortunate incident. My sincerest condolence to the friends and family of those who lost their lives. That being said, the Seattle Residences and Spa has a highly efficient facility management team that operates 24 hours daily. Since inception, we have ensured that all building regulations and procedures have been strictly adhered to. Routine maintenance is done yearly to check the soil level, water level, and other areas that could be of concern when managing a structure. Our facility has been built with quality materials and we are pretty sure about its strength.
What can Government do to encourage businesses and hoteliers in particular?
Hospitality, in general, can contribute more than it is currently doing to Nigeria's Gross Domestic Product. This can only be achieved if there is a collaboration between the government and stakeholders in the industry. The government definitely has an important role to play here, their contribution can be by way of giving grants to the hospitality sector.
What services at Seattle Residences can be accessed by non-residents. Can outsiders have paid access to the gym and spa?
The GoodLife Restaurant and Seattle Spa which are open 24 hours daily are reservation only. This has been our protocol since inception and we have been successful in doing so. All other facilities are accessible to both residents and members only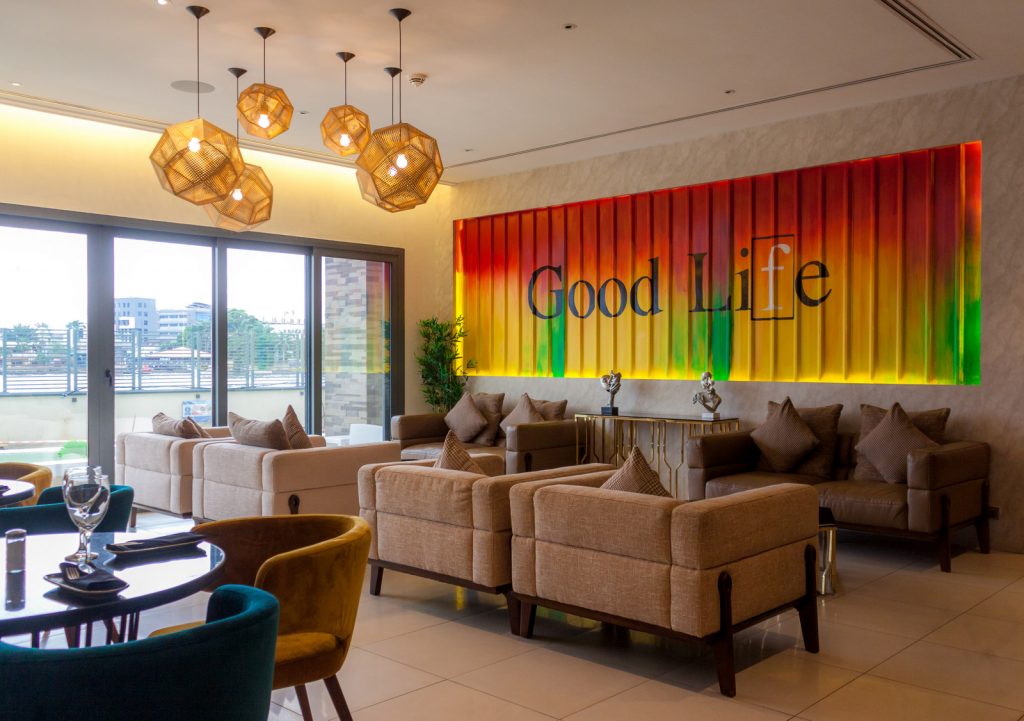 What makes the gym and spa special?
Simple. Being a company that specializes in lifestyle and wellness. Both facilities are fully fitted with the best equipment for residents and members. In addition, our gym is fully equipped with premium Technogym equipment and is open 24 hours daily for our residents and members. At the Seattle Spa, we have well-trained therapists who have the right hands to make guests feel relaxed and great after their session
Luxury Properties are usually pricy, how do you market your business, and what tactics have been the most successful?
I have a certificate in International Business and the first thing I did when I assumed office was to establish our target audience. These are individuals who are used to the best and are paying for the best. The best in quality of the accommodation, services, facilities, lifestyle experiences. Just as we provide premium quality, we expect quality guests at all times. This has built loyalty from our clientele and as a result, we have received a referral
What has been your most satisfying moment as the CEO of the Seattle Residences and Spa?
I am still right in the middle of my satisfying moment. Whenever a guest sends me a personal message or a good review publicly. Nothing, I repeat, nothing on Earth is more satisfying than that. It gives a WARM FEELING.
What challenges did you have to overcome at the beginning of your career?
Three challenges that are still hilarious. Age Discrimination, Gender bias, and Marital status. The workforce in general needs to be more inclusive. And accepting of all demographics as long as the individual can get the job done. In the beginning, you could say I was not accorded respect. There was an incident once where I had won a hotel management bid and after realizing my age and marital status, we had been asked to bring in an older man who was married for us to be able to proceed.
In what ways do you think Government can help improve business operations in Lagos?
Well, for one, I think they should help improve electricity. All businesses I dare say are run with electricity. You know I did read a report somewhere which claimed that if electricity was improved, the economy will be bound to grow which of course increases the GDP of the country and I quite agree with that.
What percentage of materials and products does the Seattle apartment import?
Over 60% of our products are sourced locally.
The Hospitality business is fast growing in Nigeria, will the Seattle Residences other Cities like Abuja anytime soon?
Currently, we have the SRS Collection which is an expansion of the Seattle Residences & Spa. Under the SRS Collection, we have two located in the heart of Victoria Island and Ikoyi respectively. Abuja would definitely be a nice location to consider in terms of expansion in the nearest future.
Follow us on social media