Sam Njoku, a Lagos State-based cleric, has chronicled how N71,300 "crawled out of my Zenith Bank account" after he followed a self-service directive on what he believed was the financial institution's website.
Speaking with FIJ, Njoku stated that the incident happened after he visited a website he thought belonged to the bank to complain about a dispense error he experienced in August.
"On August 16, I had a dispense error after I tried withdrawing N10,000 from an ATM," Njoku told FIJ.
"Due to my busy schedule, I opted to complain about the dispense error through what I thought was the Zenith Bank WhatsApp help line. I sent a message to the number and I was sent a link the sender claimed I could lodge my complaint on.
"After opening the link, I was requested to fill out a dispense error form and also input the last six digits of my debit card PAN. Following this, I was sent a one-time password (OTP). The person I was chatting with on WhatsApp also requested that I forward the same OTP to him. I followed these instructions and shockingly, the next notification I received was a debit of N71,300.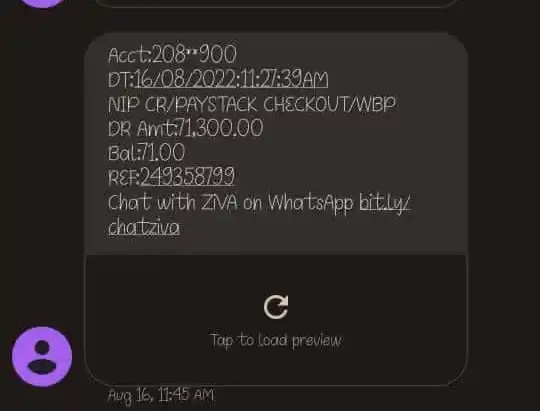 "Immediately I received the debit alert, I rushed to a nearby Zenith Bank branch and they said it was a fraudulent transaction.
"They also advised me to place a temporary restriction on the account. After this, the officials promised to send an email to their headquarters so that they could trace the transaction.
"Meanwhile, I also got a notification from Paystack stating that I had transacted with them. I then wrote to Paystack and they confirmed that Zenith Bank had reached out to them on the matter.
"Paystack even said they had blocked the account my money was transferred into and added that I could only get a reversal from my bank.
"Zenith Bank on their part refused to disclose the recipient's account to me. All they said was that my money went to a particular betting site via Wema bank.
"I presented the information I had gotten from Paystack to Zenith Bank and insisted on getting my money since the website I clicked on was one attached to their institution."
Njoku said Zenith Bank promised to resolve the issue through Nneka Ugoh, his account officer, whom he said has been unhelpful towards recovering his money.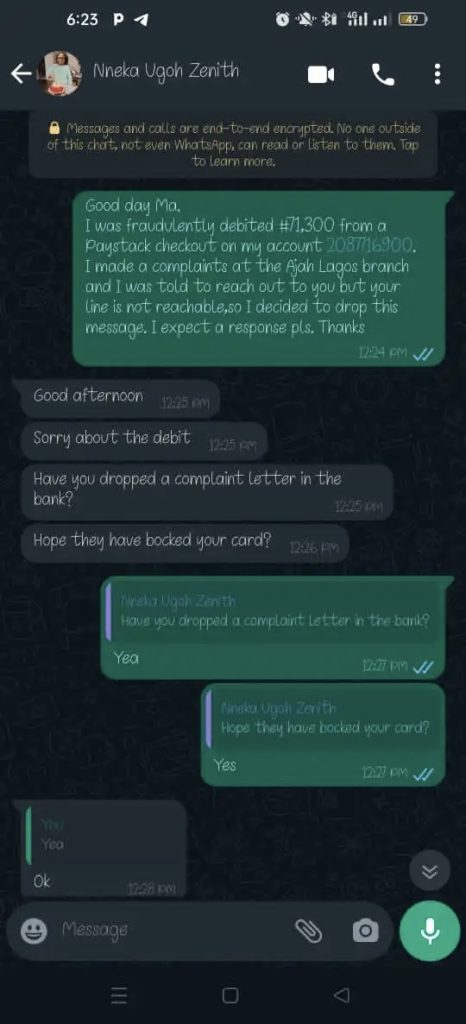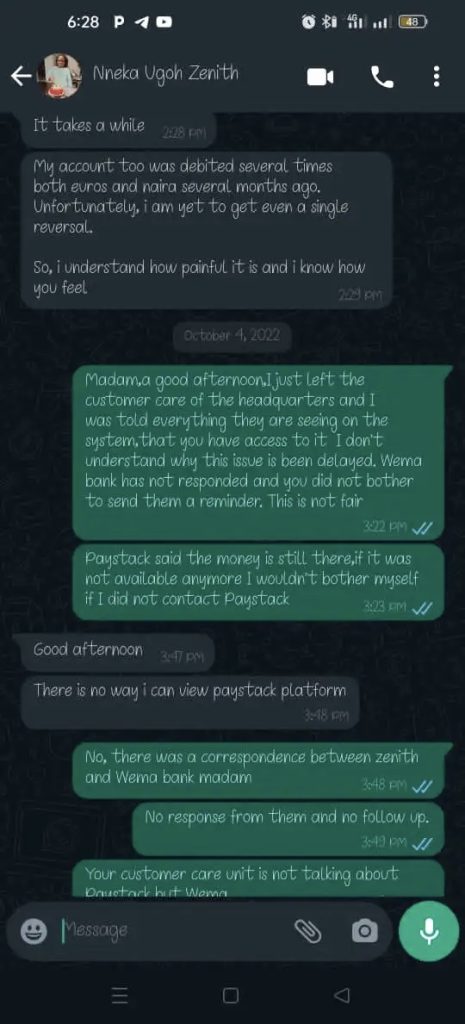 "I have visited their office numerous times and they promised to recover my money. They also said they have sent an email to Wema Bank but the latter was yet to respond," Njoku said.
"Without re-activating the account, I realised that the N10,000 dispense error that led to the fraud had been paid back into my account.
"However, the link Zenith Bank claimed is fake is still active and running."
A check by FIJ revealed that the WhatsApp line that directed Njoku to the link is saved as 'Zenith Impersonator' on the Truecaller application.
FIJ made several phone calls to Nneka Ugoh for comments on the issue, but they were not answered. A text message sent to her had also not been responded to at press time.
FIJ's email to Zenith bank for comments had also not been responded to at press time.
FIJ
Follow us on social media