• Says Royal Fathers are indispensable partners of govt
The Governor of Lagos State, Mr. Babajide Sanwo-Olu on Sunday presented Staff of Office and Instrument of Appointment to Oba Olufolarin Olukayode Ogunsanwo, the Alara of Ilara in Eredo Local Council Development Area (LCDA) of the state.
Speaking during the presentation of Staff of Office and Instrument of Appointment to Oba Ogunsanwo at his palace in Ilara, Sanwo-Olu stated his administration's commitment to the fulfilment of his promise to spread infrastructure to all parts of the state including Epe Division.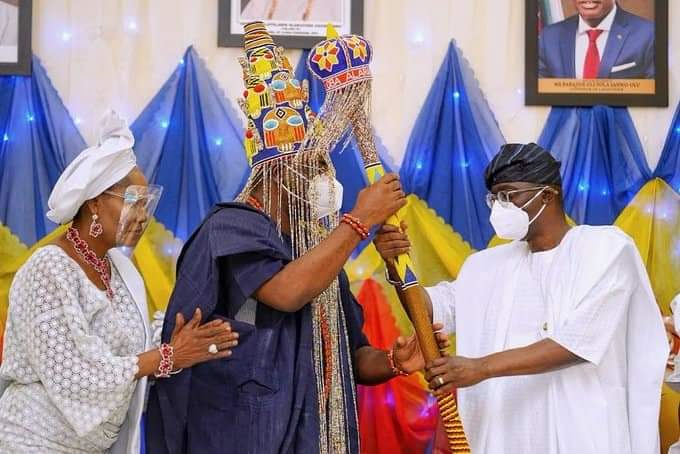 He described royal fathers as indispensable partners of government due to the roles they play as agents of development, promoters of peace and peaceful coexistence among all people and residents within their domain.
He pledged that Lagos State Government would continue to collaborate with traditional rulers in the state and ensure that their welfare is accorded the attention it deserves.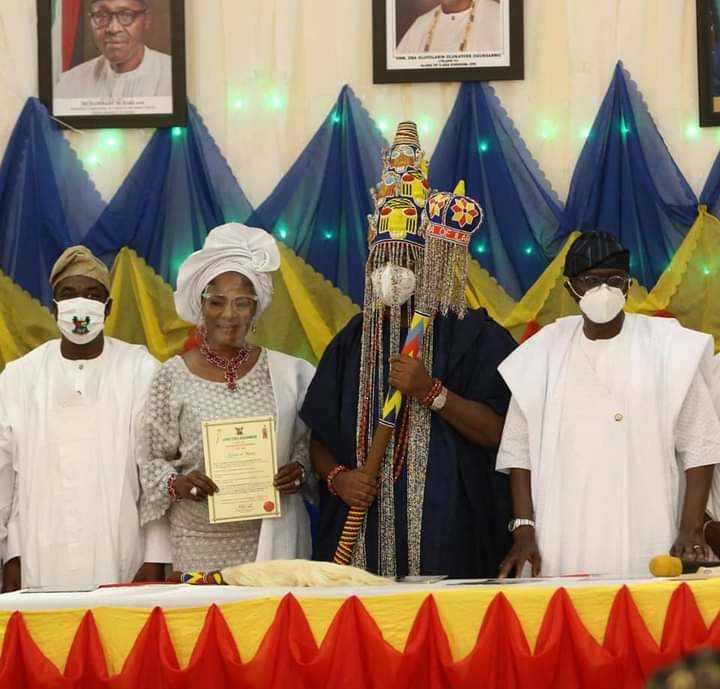 His words: "On behalf of myself, the government and people of Lagos State, I rejoice with Your Royal Majesty as you ascend the stool of your ancestors."
"Your choice by the Kingmakers and wide acceptance by your people to lead them and be the custodian of the culture and tradition of this Kingdom is a reflection of their trust and confidence in your ability to positively impact the fortune of this landscape and its people," the governor lauded.
"Kabiyesi", he continued, "your position as Chairman of Epe divisional Council of Obas and Chiefs as well as Vice Chairman at the State level confers on you great responsibility which you are expected to discharge with a high sense of responsibility guided by the overall interest of our dear State."
According to Sanwo-Olu, the Oba has a responsibility to provide leadership, promote cooperation, friendship and the spirit of togetherness among the comity of Royal fathers and Chiefs within the Division and at the State level.
He further implored Oba Ogunsanwo to use his wealth of experience for the development of Ilara, Epe Division and Lagos State as a whole.
He said: "It gives me great joy to note that Your Royal Majesty is bringing to this highly revered stool a rich background of decades of experience and accomplishments in your professional calling and an astute administrator."
"Part of these accomplishments was recorded during your tenure as Executive Chairman of the State Internal Revenue Service."
All of these, I have no doubt, Your Royal Majesty will bring to bear on the development of Ilara, Epe Division and Lagos State as a whole.
"Now that Kabiyesi has ascended the throne, I enjoin all the sons and daughters of Ilara to rally round the King so that his reign will be glorious and usher in unprecedented development to this ancient and historic kingdom."
Follow us on social media