Some Lagosians have, today, continued their anti-police brutality protests at the Alausa and Lekki toll gate areas of the state, despite the 24-hour curfew imposed by Governor Babajide Sanwo-Olu.
As at the time of filing this report, hundreds of individuals are still stationed at the centres peacefully agitating for their demands, demonstrating an unprecedented resistance to state authorities.
Police officers and soldiers have already deployed in the venue of the protest at Alausa, although they did not use force on the protesters.
Some of the protesters also guarded the vehicles of the policemen to prevent them from being attacked by hoodlums.
When the military personnel got to the venue of the protest, the youths formed a 'guard of honour' to welcome them and later rode on their vehicle as a form of solidarity.
Likewise, in the Lekki Toll Gate area, the protesters failed to vacate the protest area. Instead, they sat on the floor as a symbol that they were not ready to vacate the venue of the protest.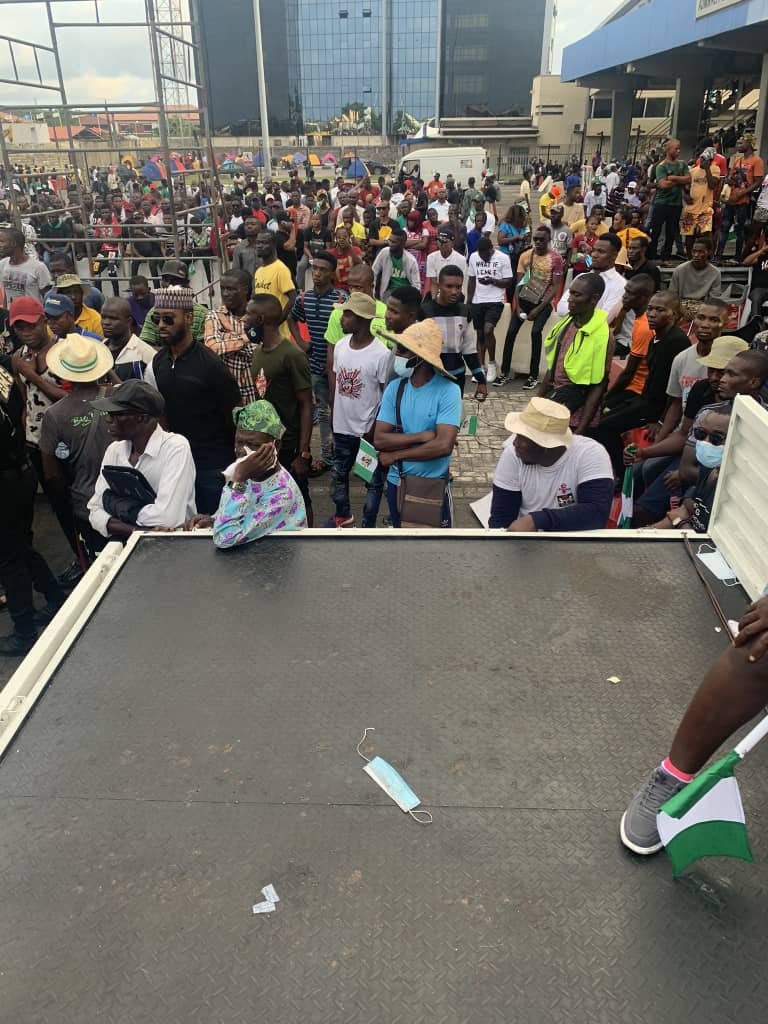 Earlier, the Lagos State Police Command had banned protests in the state.
This was contained in a press statement by the Lagos Police Public Relations Officer, Muyiwa Adejobi, on Tuesday.
The police ban came a few hours after the Lagos State Government imposed a 24-hour curfew on the state, starting from 4pm.
Before the declaration of the curfew, at least two police stations were burnt in Lagos State by hoodlums.
The statement read in part, "Due to the new development of violent attacks on police officers and men and formations including innocent Nigerians in Lagos State, and the 24-hour curfew imposed by the Lagos State Government with effect from 4pm today, October 20; the Lagos State Police Command wishes to inform the public that henceforth no protest or gathering or possession, under whatever guise, is permitted within Lagos State.
"In light of the above, all security agencies have deployed adequate personnel to take charge and enforce the curfew across the state.
"The command regrets to confirm the setting ablaze of Orile Police State today at about 10am, where some of our policemen were critically injured and unconfirmed reports state that one of them is dead."
"It's crystal clear that the #ENDSARS protest has been hijacked by hoodlums who want to run down the state and the police command will resist such a state of anarchy, unrest, and brouhaha with all powers within the ambit of the law."
Follow us on social media