The National Drug Law Enforcement Agency (NDLEA) has arrested the general overseer of a church in Lagos over alleged drug trafficking.
Femi Babafemi, the NDLEA spokesperson, made this known in a statement on Sunday.
He said the "high priest," Nnodu Kendrick, was apprehended alongside "several others" over an attempt to export 283 parcels of methamphetamine and 14.90 kilogrammes of skunk concealed in kegs of palm oil to Dubai.
The agency said the illicit drugs were concealed in kegs of palm oil and passed through the NAHCO export shed of the Murtala Muhammed International Airport, MMIA, Ikeja Lagos to Dubai, United Arab Emirates.
The cleric who is the founder of the Seraphic and Sabbath Assembly, in Ijesha, Surulere area of Lagos was arrested with his accomplices Uzezuka Udoka, a student of Emmanuel College of Theology, Samanta, in Oyo, and their freight agent, Mary Obasi.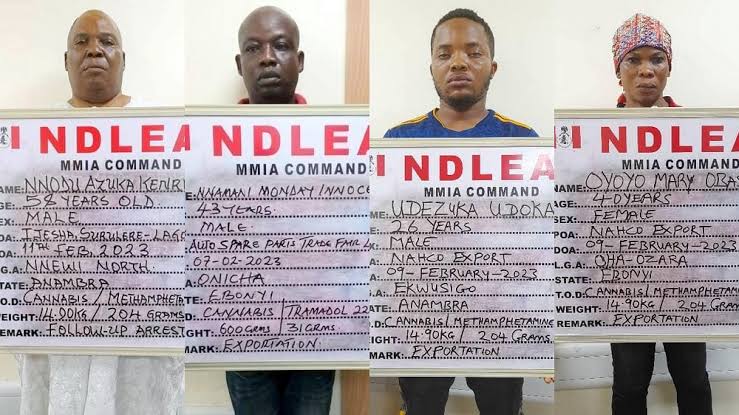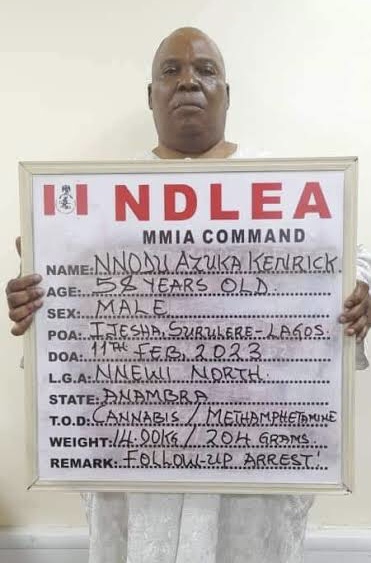 "High Priest Nnodu was arrested on Saturday 11th February 2023 at his Seraphic and Sabbath Assembly church located at No 1, Sabbath Close, Ijesha area of Lagos following the arrest of two suspects: Oyoyo Mary Obasi and the theology student, Udezuka Udoka on Thursday 9th February at the Lagos airport in connection with the seizure of 283 parcels of skunk weighing 14.90 kilograms and 204 grams of methamphetamine concealed in four 25-liter kegs of palm oil for export to Dubai," the statement reads.
In her statement, Mary indicted the General Overseer of her new-found church, Nnodu, and his son, Chisom Obi, who is now at large as the persons that gave her the consignments for export after being compelled to take an oath of secrecy as well as a sacrifice of chicken in the church while High Priest Nnodu prayed for her for the success of the transaction.
One of the suspects told the anti-narcotic agency she was threatened and compelled to take the illicit drugs, "after they knew she had known their secrets, adding that High Priest Nnodu was always referring to the illicit drugs as Ice and Bible, (Street names for Methamphetamine and Cannabis) in their telephone text message chats."
The other suspect, the theology student, was allegedly introduced to Ms. Obasi to tutor her because she was new in the illicit business.
Mr Udezuka said he was paid two million naira for his role and had to play it because he needed the money for his education.
Another attempt to send a consignment of skunk and tramadol 225mg to the UAE by a Dubai returnee, Nnamani Monday Innocent, was also halted by the agency.
"The suspect was arrested at the Trade Fair complex in the Ojo area of Lagos, where he had gone in the company of his friend Nwanana Ikechukwu with the cargo to a freight company to process the consignment for export on Tuesday," the NDLEA said.
Follow us on social media