The Pyne Hospitality Company is a privately owned, pan-African award-winning boutique events and consulting firm launched in 2018 with a mission to provide innovative services to the African hospitality and tourism industries. We are on a mission to influence and shift the narrative of Africa's service culture, attitudes, excellence, and business structures in hospitality and tourism to align with international best practices and global standards, according to Amaka Amatokwu-Ndekwu, the company's CEO and Founder.
Born in Lagos, Nigeria (one of Africa's most vibrant cities) and the United States of America, we have delivered on our promise year after year and expanded into other African countries with over 30 employees and partners delivering unique experiences through MICE. Today, we have over 50 Pan-African team members, 150+ partners and stakeholders, and a vertical focus on the hospitality and tourism industries.
Pyne Hospitality Company is the curator of the prestigious Pyne Awards Africa, which began in Nigeria and has since expanded its participation to several African countries, including Ethiopia, Namibia, Ghana, Kenya, Morocco, Egypt, Tanzania, Botswana, Uganda, South Africa and Rwanda.
Pyne Awards Africa will mark its fifth anniversary and awards event on September 9th, 2022, at the Eko Hotels Convention centre Lagos, Nigeria, in partnership with Eko Hotels & Suites, Nwando's Signature Events, Sliquors and CMD Travels.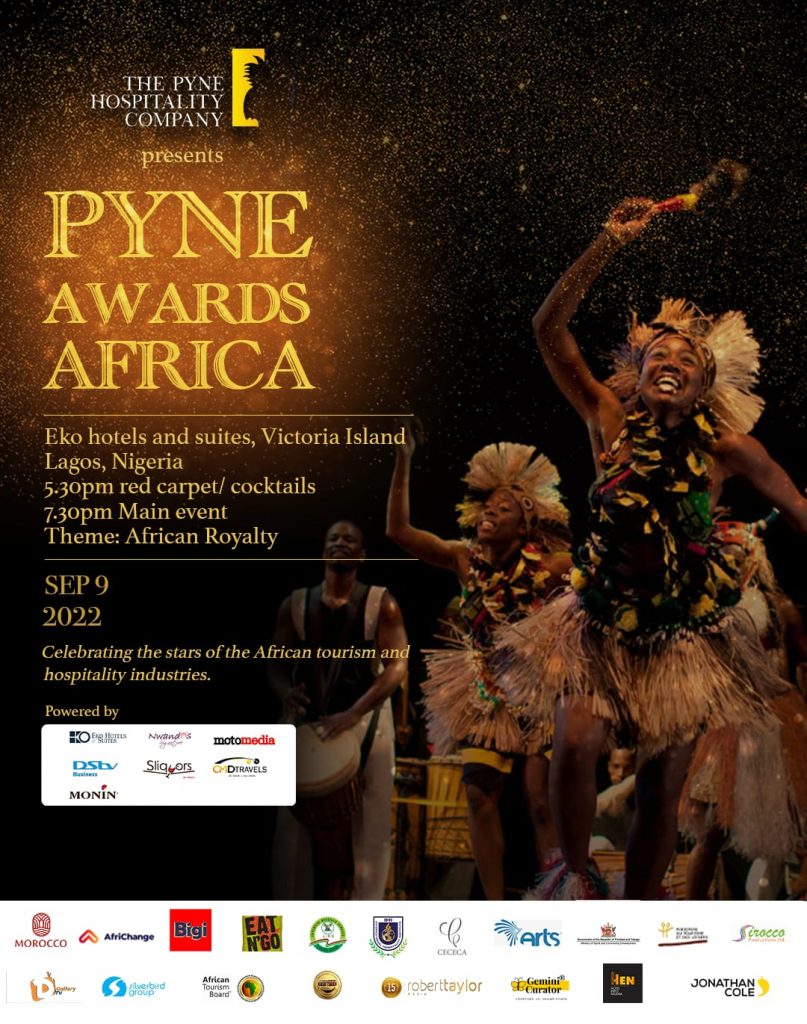 The event is powered by Eko Hotels and Suites, Motomedia, Dstv Business. Other brands supporting this year's event include, Moroccan National Tourist Office, African Tourism Board, Africhange, BIGI, Robert Taylor Media, Silverbird Group, Eat n Go ltd, Gemini Curator Creatives, Cash Token Africa and many more. The event has been endorsed by tourism ministries, agencies and Embassies, to mention a few from Namibia, Ethiopia, Uganda, Nigeria and Botswana.
This year's event is being hosted by Nigeria, which will promote and highlight the country's tourism potentials as visitors from all regions of Africa enjoy Nigerian hospitality. The awards' fifth year of expansion into additional African countries boosts the value and prestige associated with winning or being nominated for the awards. The competition has only intensified.
About The Pyne Awards
Our Mission is Constantly recognising and celebrate organisational excellence, throw light on exceptional workers and reward their impact in Hospitality & Tourism industries, Search and bring to limelight Stars & Change makers in Africa's Hospitality & Tourism industries, Enhance engagement between organisations, brands, people and stakeholders in the hospitality and tourism industry through MICE.
Our Vision is to be the number 1 Most Respected & Prestigious Awards Ceremony for pioneers and organisations in the African Hospitality & Tourism Industries. We've been dubbed the "The Most Prestigious African-owned awards event for the African Hospitality and Tourism Industries" due to our fundamental principles, industry standards, and commitment to event execution excellence.
African tourism is a rapidly growing industry that attracts a large number of international investors and visitors. The Pyne Awards Africa's mission is to elevate Africa's exceptional pioneers to the world stage and spotlight. Among the benefits of partnering or supporting this event include but are not limited to: access and visibility to over 5000 travel, hospitality, and tourism brands across Africa, opportunity to position your brand at the forefront of the drive to grow and develop the African hospitality and tourism industries; and which in turn gives you competitive advantage within your business sector. For more information email events@thepyneawards.com.
Follow us on social media