The Covid-19 pandemic ushered in a season of strained tourism activities in Lagos, and many tourist hotspots across the world. Lagos is a beehive of tourism attractions and fun hangout spots, all of which were shut down for over seven months, in a bid to reduce the spread of Coronavirus.
Following the ease of the lockdown on public spaces, amid the decline of the virus' spread in the city, these tourist attractions are gradually emerging from their hibernations. And they do so, with optimism.
Omu Resort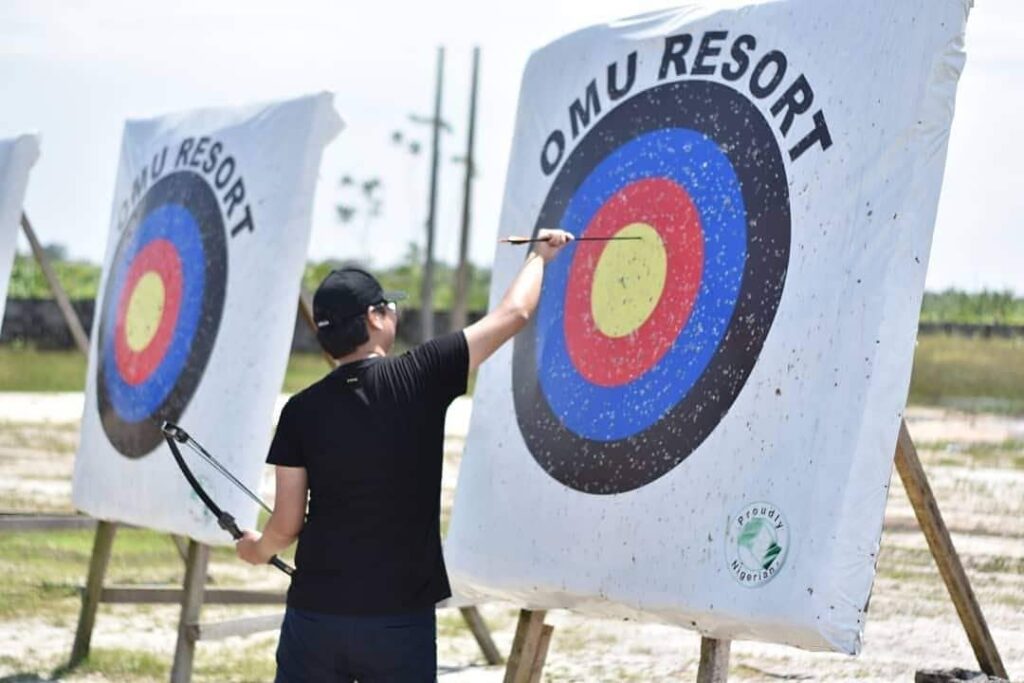 "The pandemic was not easy for any of us; but as humans one of strongest weapons is togetherness and love, and so we can come together as one in the fight against the spread of Covid-19. We are back now, bigger, better and stronger.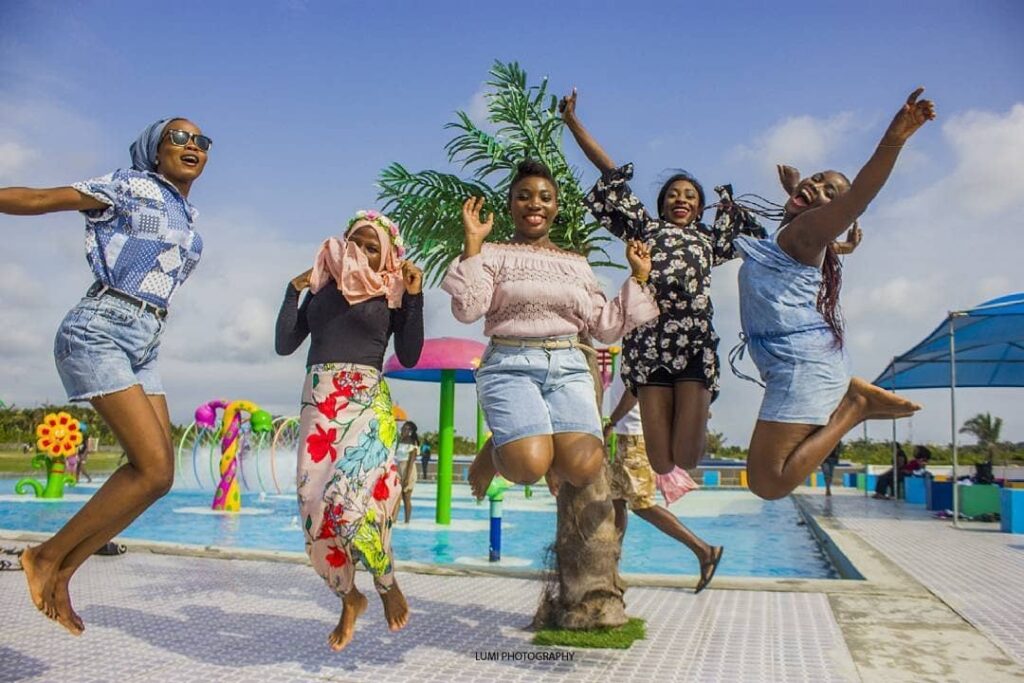 It is a delight to all our customers and even to us," the management at Omu Resort passionately expressed. The Omu Resort is fascinating as it is set in a rainforest environment, laced with a rich surrounding of nature.
Nestled in a peaceful neighbourhood, it features an intriguing Omu Creek. This multi-hub family hangout spot in the Lekki area of Lagos, dishes history, nature and adventure together in one encounter. It features a Go-kart arena, Kayaking, a Zoo which features wildlife, mini water park area for kids, Archery, Park rides, Horse riding area, go-cart arena, Quad bikes, a mini-aquarium, a mini-golf resort, an antique museum, a paintballing arena, and an amusement park.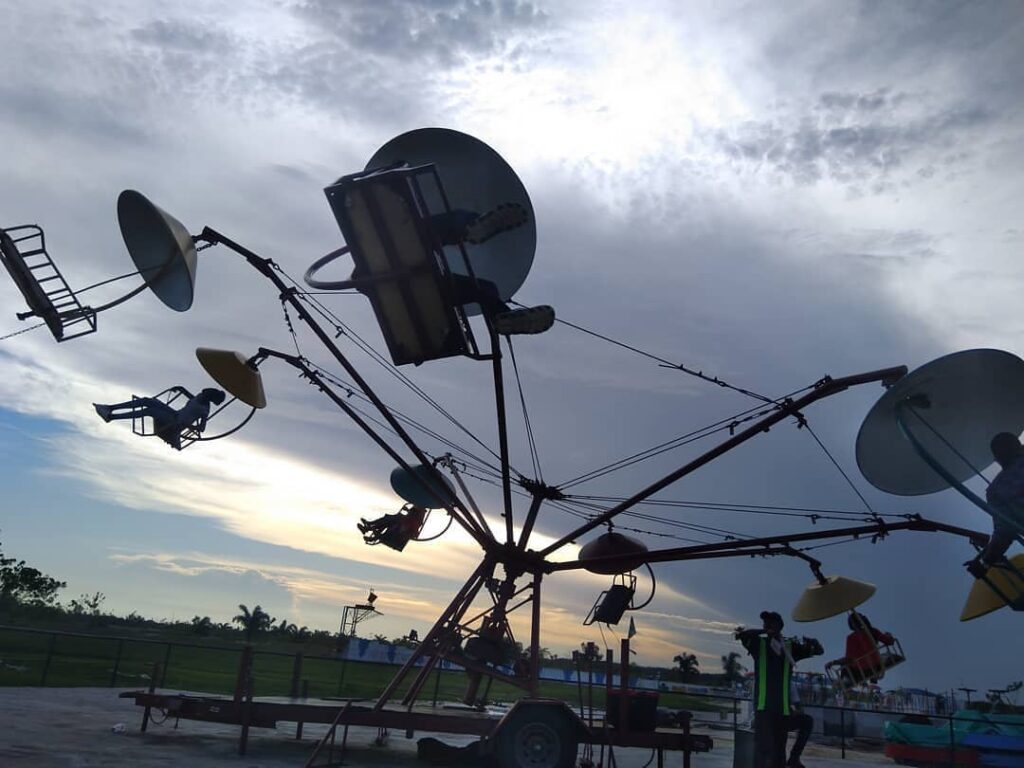 It is one of the key tourist attractions where you can derive fun and satisfaction.
La Campagne Tropicana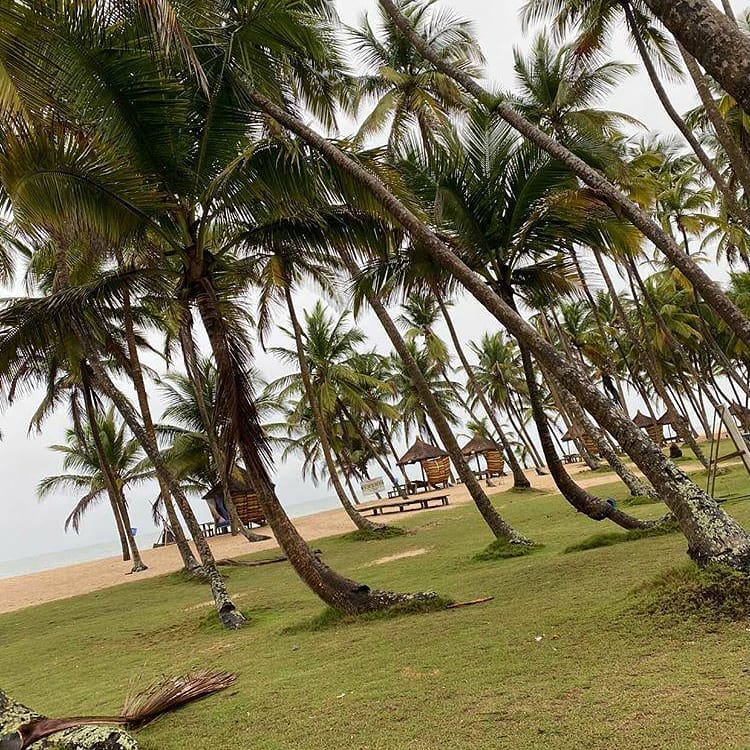 "We strived to survive, amid the pandemic. We created a solution called Bespoke Entertainment for providing live entertainment in a safe mode despite the new world order that has been created by COVID -19. It is specially designed for couples, families, and friends in groups of not more than 20 persons. We are happy that we have finally resumed now.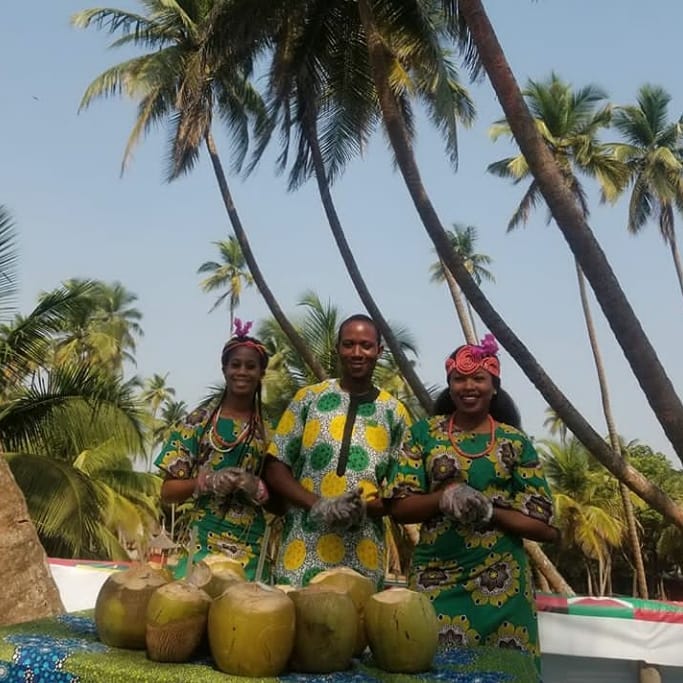 "Our guests' safety and wellbeing are our priority. So, we fumigated the resort on the 18th May, 2020. We also put in place systems to further mitigate the spread of the Covid-19 at the resort, such as upgrading our cleaning procedures, installed hand wash areas on the beach and restricting the number of guests allowed per day. We would continue to find ways for our guests to enjoy the natural bliss and tranquility at the resort while keeping the risks to an absolute minimum," the resort's management said.
The resort is a private 60-acre beach resort in Lagos' Ibeju-Lekki area. It is a stunning, modern beach resort replete with African interior designs and décor.
It features various activities such as Kayaking, Horse Riding, the longest beach swimming pool in Nigeria, as well as relaxing tree houses. It is perfect for corporate retreats, family and friends' picnics, as well as romantic getaways.
Lekki Conservation Centre
"We deeply missed our customers when the lockdown was on. It wasn't the same for us. We still hosted virtual tours of the reserve and many people participated. However, it is different when you are here and can get to feel the atmosphere first-hand. We are grateful to God for keeping us alive and we are glad to be back."
The Lekki Conservation Centre is one of the best nature reserves in Nigeria. This adventure centre offers a breath of fresh air and an escape from the forever busy city of Lagos. It features a lush and serene nature environment. It features various picnic and game arena. It houses some fascinating tree-houses. The LCC also hosts the longest canopy walk in Africa.
LUFASI – The Lekki Urban Forest Animal Sanctuary Initiative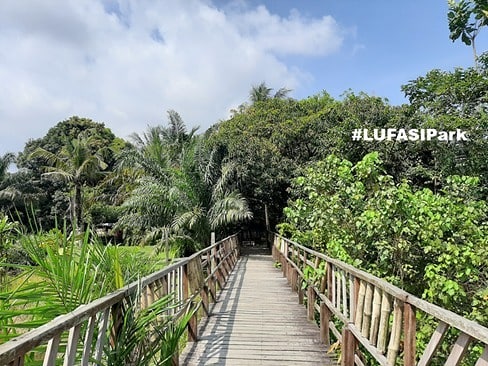 "We are indeed grateful that we have reopened, following the long months that we had to shut down our gates in compliance with the Lagos State government Covid-19 prevention protocols. We are happy that our guests will be able to reconnect with nature now, while observing the recommended social distancing amid other safety protocols to curb the spread of the pandemic."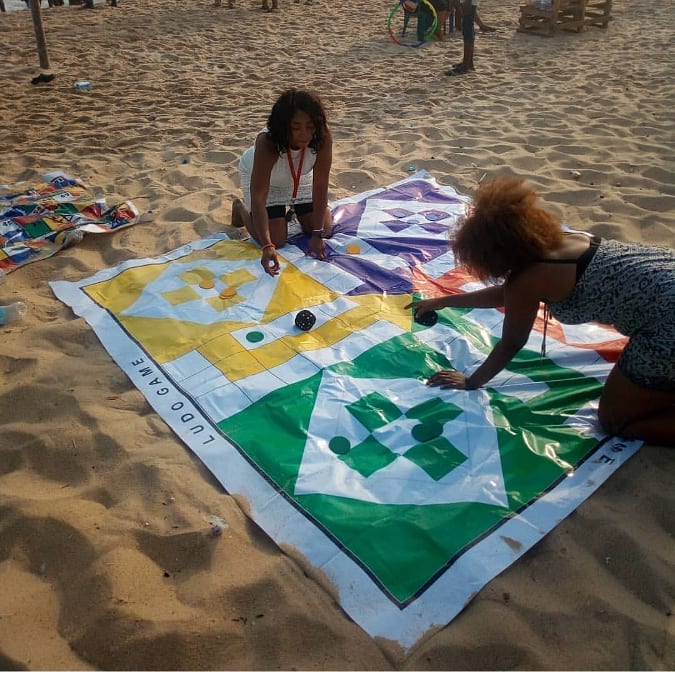 The LUFASI Park is one of Nigeria's few wildlife and nature preservation centres, which has also fully morphed into a continental tourist attraction. Sited along the Lekki-Ajah expressway area of Lagos, this park is an urban hub where people interact with nature. It houses green-life species such as the Ekki "Iron Wood" tree, as well as animals like the critically endangered Hooded Vulture, the African Pied Hornbill and the African Civets, among others.
It has a serene ambience surrounded by a swampy forest and oil-palm plantation, with large manicured garden spaces. It also has pond-side landscapes for recreation and picnics.
Tarkwa Bay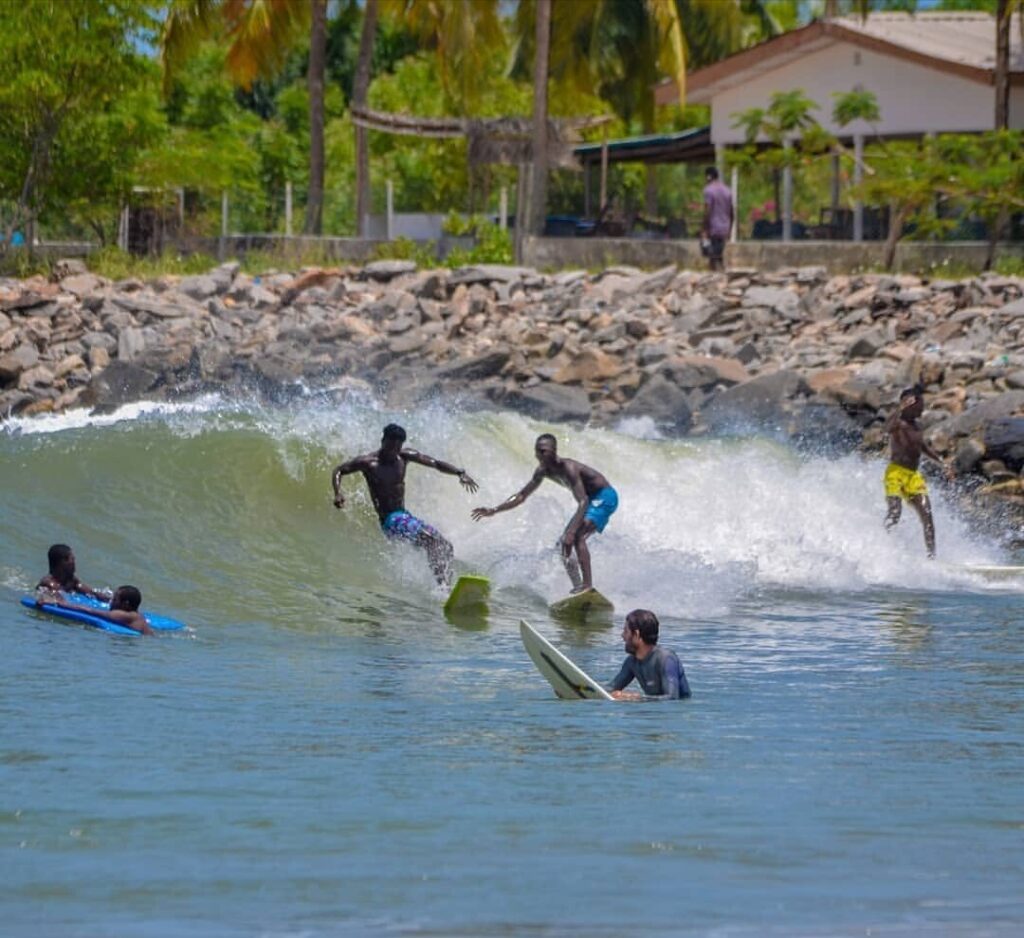 Tarkwa Bay is an oasis on the Lagos Island. Accessible only via boats from the CMS Ports or the Bonny Camp ports, this beach serves a sheltered manmade sandy site where you can enjoy the refreshing taste of coconut water, and enjoy the water-sports of Kayaking, Skiing, surfing or Boat-riding.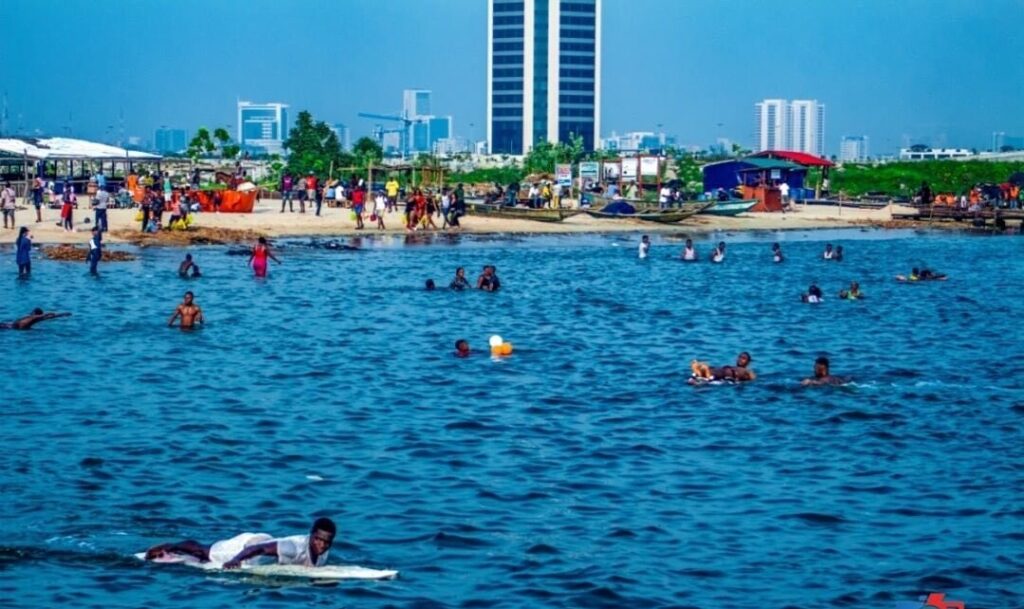 The beach is one of the cleanest beaches in the state. Prior to January, 2020, it existed as a community-beach. However, as part of measures to curb an alleged "vandalization of oil pipelines on the island", the Lagos Government evicted 4,500 community dwellers on the beach and stationed the Nigerian Navy to man and operate the beach.
The beach is very much open to group, family and individual visitors at both day and night, to enjoy its intrigues. It also houses several beach houses to accommodate visitors.
KayakLagos – Kayaking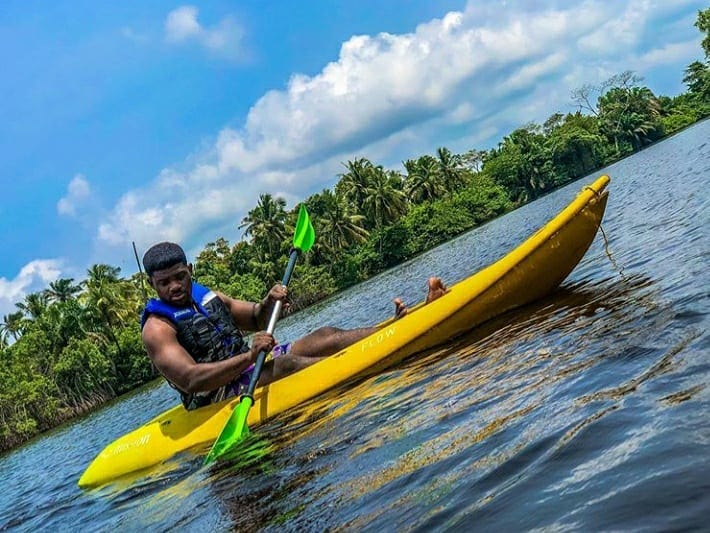 "We are back and excited. This has been something we were looking for. The entire management were looking forward to reopening. The lockdown wasn't too easy on us.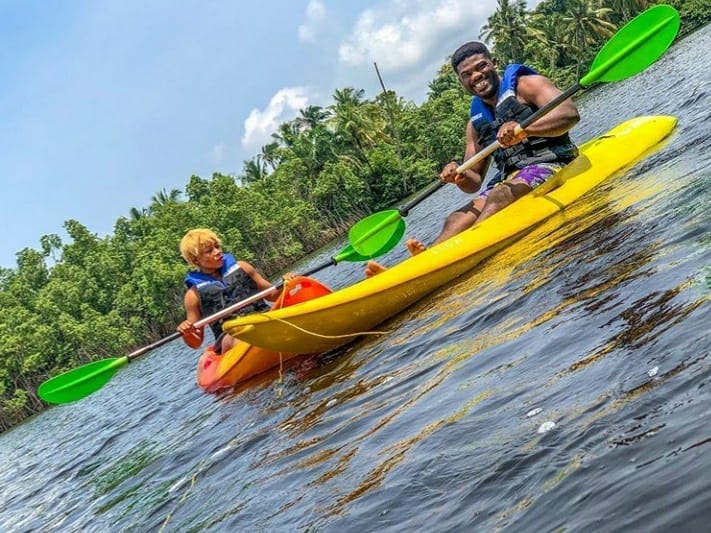 So far, we have been seeing many people return as they have missed Kayaking with us. We can only continue to envision the best for us and for all our customers, God spare our lives."
NothingtoDoInLagos.com is one of the foremost hosts for Kayaking, in the bustling city of Lagos. It offers various hourly packages, for individuals and groups.
Freedom Park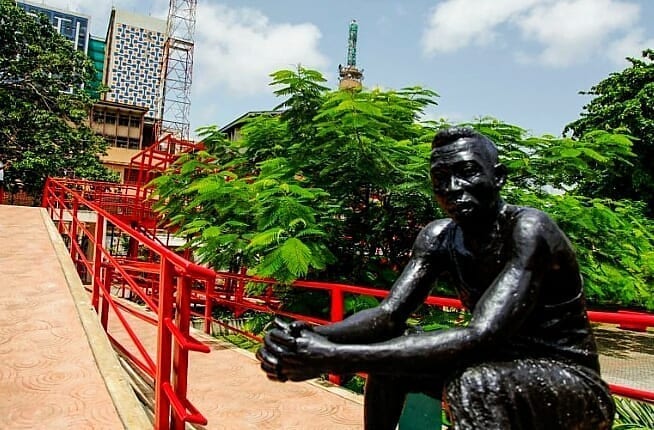 "We are glad to be back. It is also very significant for us, as this also marks our 10th anniversary. We care about our visitors and we will ensure the enforcement of the use of terminal scanners, personal hygiene and wearing of masks in confined areas as well as the frequent disinfection of the whole park and its toilets.
The park is open also for a 1-hour Saturday morning exercise and workout sessions with a registered coach, a maximum of 50 persons at a safe social distance.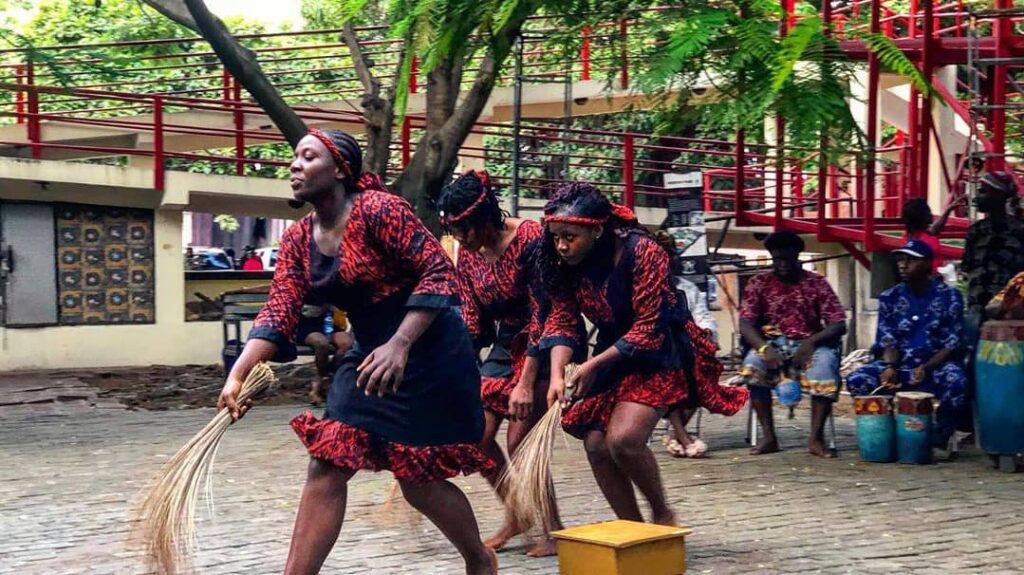 Open Day Sundays for small family picnics on food courts, skeletal cells and garden are also ongoing.  It wasn't easy staying closed for this lockdown. It came so suddenly. However, we know that we are back and the future would be better."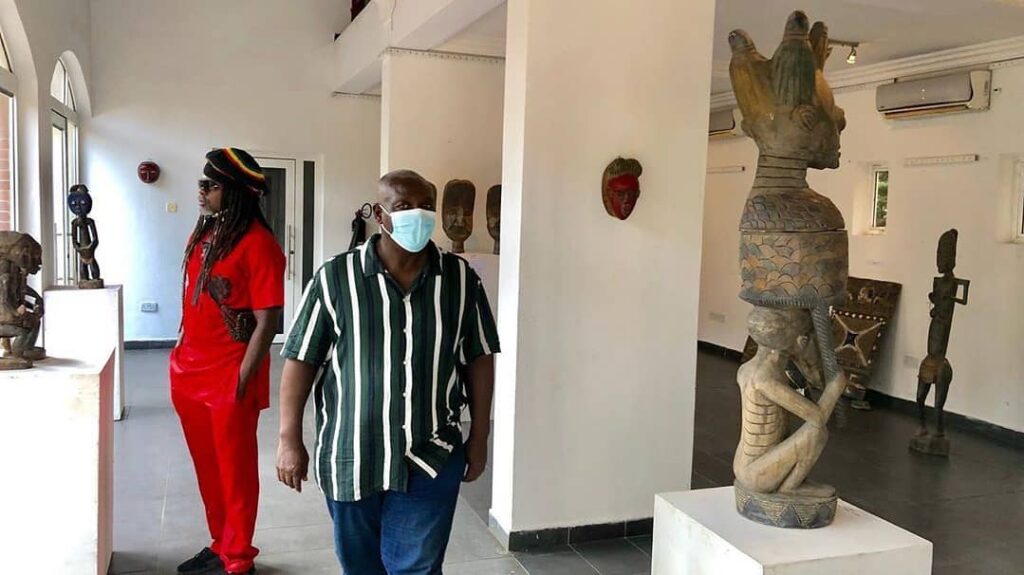 The Freedom Park was formerly the British Colonial Government's Broad Street prisons. Built in 1871, its iconic walls were imported brick by brick from Britain in 1885. The Colonial report for 1898 indicates that 676 males, 26 females, and 11 juveniles were imprisoned at Broad Street prison for the year.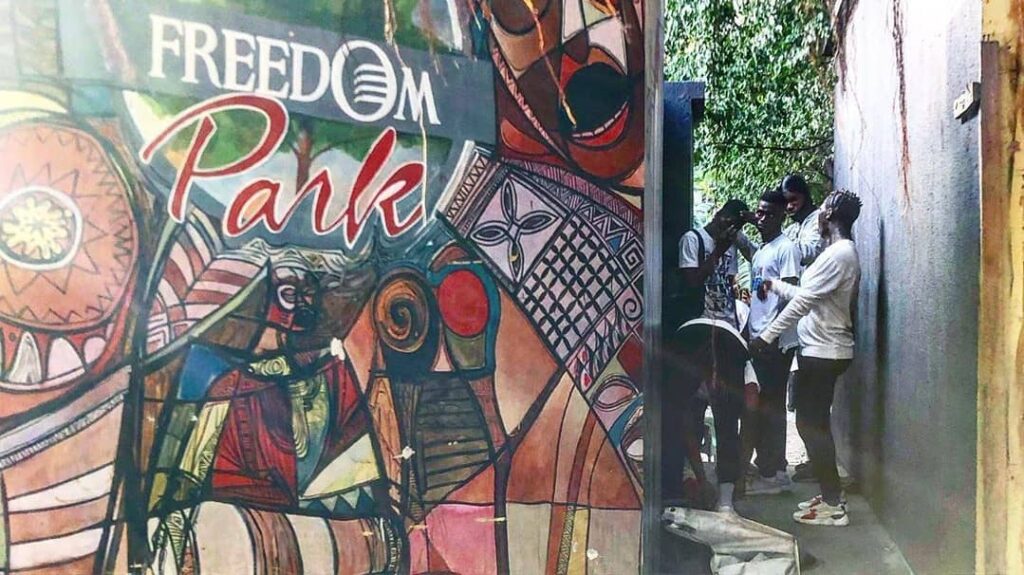 The prison housed colonial dissents, political prisoners, pirates, robbers and other misdemeanors. Famous politicians that were inmates include, Sir Herbert Macaulay, Michael Imoudu, Obafemi Awolowo, Anthony Enahoro and many others. It was closed down a hundred years after its construction in 1971.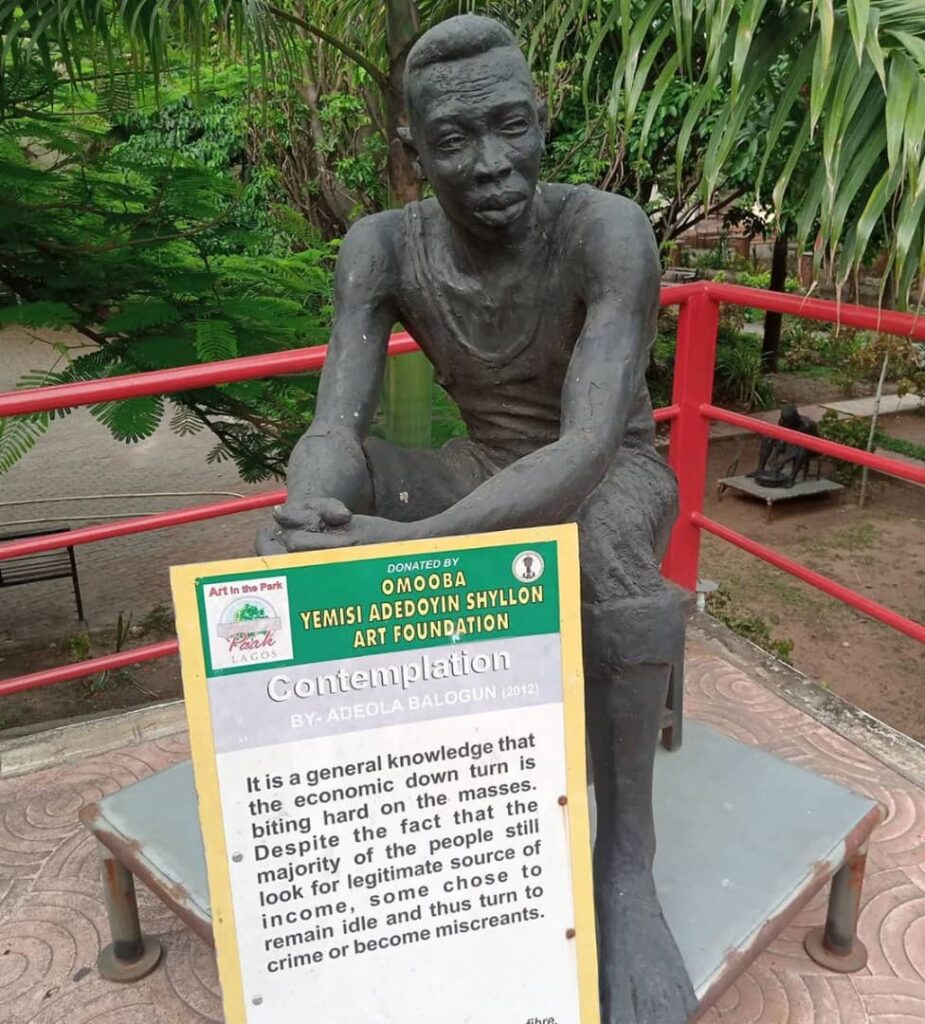 After about three decades of abandonment, plans were drawn up by architect Theo Lawson with the Lagos state government's approval to transform the site into a creative space with Food courts, museum, galleries, concert stages, an amphi-theatre and several other facilities. It was opened in 2010 and has become a major tourism hotspot in Lagos and, by extension, West Africa.
Follow us on social media