Iragbo Community in the Badagry area of Lagos state, with over 4,000 people who are predominantly farmers, has been affected by a heavy rainstorm that occurred on 24th May, 2020.
Lagos Today gathered that the rainstorm destroyed the poultry farm worth N10million, only primary school, St. Patrick Primary School, a church and the Town Hall in the community.
In an Exclusive interview with Lagos Today, The Senior Special Adviser on Information and Tourism to the LCDA Chairman, Mr. Solomon Dosu said the rain literally destroyed properties worth millions.
He identified a poultry farm in the community that was destroyed, noting that it worths N10m or thereabout.
Dosu, who knows the nooks and crannies of the community, also explained that the only primary school, Town Hall and a Church in the community were destroyed due to the heavy rainfall.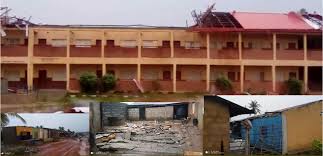 Meanwhile, He said that all the Emergency responders are on ground even as he was speaking to Lagos Today, assuring that normalcy will be restored to the community.
In a statement issued to newsmen in Lagos, The Lagos State Emergency Management Agency said the rainstorm caused severe damages to several buildings such as a school, a church, a community town hall, and several residential buildings.
Director-General of LASEMA, Dr. Olufemi Oke–Osanyintolu, said the agency would be conducting a comprehensive enumeration of the affected community on Tuesday.
"The heavy downpour of Sunday, May 24th 2020 has caused considerable damage to at least 30 households in the Iragon-Iragbo Communities within Badagry.
"A number of homes have totally or partially collapsed, while others had their roofs blown off by the heavy winds.
"We can confirm for example that the prototype school in the community, St Patrick's Primary school has suffered extensive damage.
"We have dispatched a team to conduct an enumeration of damaged properties and displaced persons particularly elderly, women, and children within the locality. Updates will follow in due course" He said.
Follow us on social media