…residents call for more surveillance
Recent reports circulating on social media alleging vandalism of pile caps on the Third Mainland Bridge have been debunked by the Lagos State Government.
The media aide for Lagos State Governor, Mr Jubril Gawat took to his Twitter handle to confirm from the Federal Ministry of Works that no vandalism occurred at the third mainland bridge.
According to the government's media aide, the chiseled sections seen in photographs are part of ongoing rehabilitation works and were prepared by the contractor for repairs.
The Federal Ministry of Works also confirmed that no vandalism occurred, assuring the public of the bridge's safety. However, concerns have been raised regarding the need for increased surveillance to prevent potential acts of sabotage on the iconic bridge.
According to him, "The alleged vandalised pile caps were chiseled by the contractor for repairs just before the emergency repairs of the third mainland bridge's contract was terminated on the account of nonperformance and slow pace of work by the contractor.
"The pile cap repairs entail the removal/chiseling of Non-firm concrete parts of the pile caps, weak/ rusted reinforcements are removed and replaced, antirust applied, and the surface dressed with special mortar.
"There is no vandalisation of any part of the bridge's sub-structure, the photograph circulating in the media refers to the prepared/chiseled section of the ongoing rehabilitation works on the bridge. Hence, the bridge is SAFE for public use."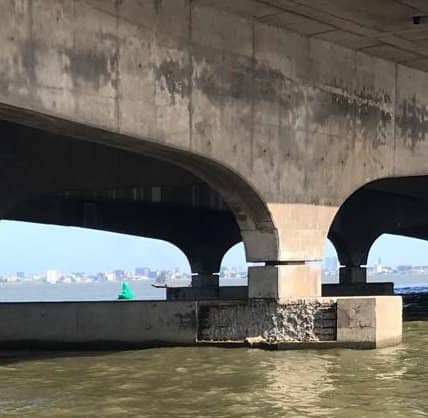 Earlier in the week, it was reported on social media that pile caps under the Third Mainland Bridge were being chiseled by vandals who are allegedly selling them as reinforcement bars. It caused a lot of concern for individuals as they called the attention of the government to the problem.
Hammid Bakare said the Federal Government and Lagos state government should ensure more surveillance on the lagoon.
He said: "Disturbing Recent pictures of the third mainland Bridge Pilecap being chiseled out by vandals so they can cut and sell the reinforcement bars. The Dangers cannot be overemphasized. The Federal government in collaboration with the state government ought to up their ante in terms of surveillance on the Lagos Lagoon and ensure that the perpetrators are locked up and face the consequences of their actions."
Abundantly Blessed called on relevant authorities to act on the alleged vandalism to avert disaster. He said:
"Imagine some mad people chipping off the concrete cover of pile caps of the Third Mainland bridge just to do away with the reinforcement Authorities concerned should act now and avert disaster. Some people are better off dead than live among us."
Follow us on social media