Distressed residents of 33, Onajinmi Street of Bariga area of Lagos State are crying out for government, ministry of justice and advocates intervention after their landlord sold the building to a new buyer who gave them three months eviction notice despite the effect of post COVID-19.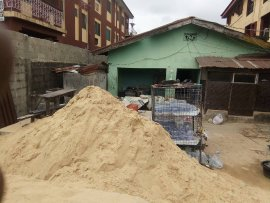 The 10 occupants were said to have been served a letter of eviction on June 26 this year signed by Elder Benjamin Sunday Shopeju. And tenants were to leave by September 30 this year without considering those whose rent is yet to expire.
Some of the tenants had paid last year while others paid this year. According to the residents, who are anxious over the new situation, the seller and the buyer have threatened to unleash terror on them with thugs.
A perturbed tenant, Mrs. Taiwo Amao, said she moved into the residence in February this year only to be served with an eviction letter to evacuate the building.
Amao lamented that she paid N150,000. With this new development on ground, the landlord refunded N90,000 only to her.
"Where will I see money to rent another house? I am a seller at UNILAG. I haven't worked since March. He should refund the complete money and give us time to look for elsewhere," she pleaded.
"We the tenants all plead because for now and due to post COVID-19 financial stress we have no where yet to go until when our rent is due and given time to move, not under rush or duress," they pleaded in a letter.
Their message read in part, "We have all been to the Citizens Mediation Centre at Oloja PHC Bariga with a copy of the eviction notice. We met a female staff who told us she would invite the buyer, but when we went back to the mediation centre, the representative told us blatantly to make sure we leave the house on the said date without even bringing both parties to the table. We sensed something must have gone wrong."
Meanwhile, Mr. Okoro Ogbonnaya, told The Lagos Today that the new landlord told them he had an agreement with the previous landlord that within three months the entire tenants would have parked once he paid.
"We contacted our landlord, he confirmed all the new landlord said that it was their agreement," he adds.
Ogbonnaya, who has been a resident since 2004, pleaded for more time, as three months is too sudden against the recommended six months notice period according to Law.
"My rent has expired already. We are not going to remain here. We are just looking at how human rights can help us so we get more time to prepare," he expressed.
Another tenant, Mr. Oyan Taiwo, also confirmed the plights of his co-residents and called for help to save them from being thrown on the streets.
Unanimously, the distraught residents called on the state government and good people of Lagos to come to their aid.
"We all plead for your help to avoid being thrown to the street us unjustly. Government should help us," they decried.
Follow us on social media